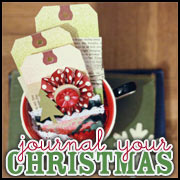 Sharing my first two pages from my Shimelle Journal.
December 1st - My manifesto - my pledge to tell the tales of Christmas in this my 4th consecutive journalling year.
And for the 2nd of December my weather focused page featuring my youngest Jamie in his cute "winter fashion victim" ensemble!!
Being December 2nd we are onto day 2 of the ChickenSoup challenges - pop over here for some festive inspiration for the next couple of weeks. Today's recipe was along a Christmas Cards theme and I created this little card using  my first ever Sugar Nellie stamp coloured in with ProMarkers to match the Basic Grey seasonal paper (which I love!) The photo is not the next (darn wintery evenings!) but I am very happy with how it turned out. If only they were quicker to make I could use this design for my cardmaking this season...>! Maybe not!